The Victorinox SwissTool Spirit XC Plus is a top quality multi tool with an amazing array of features. It comes complete with a smart leather pouch and has so many features you'll wonder how you managed without one!
The Victorinox SwissTool Spirit XC Plus has a tool for just about any situation, here is a rundown of all the nifty features:
Needlenose Pliers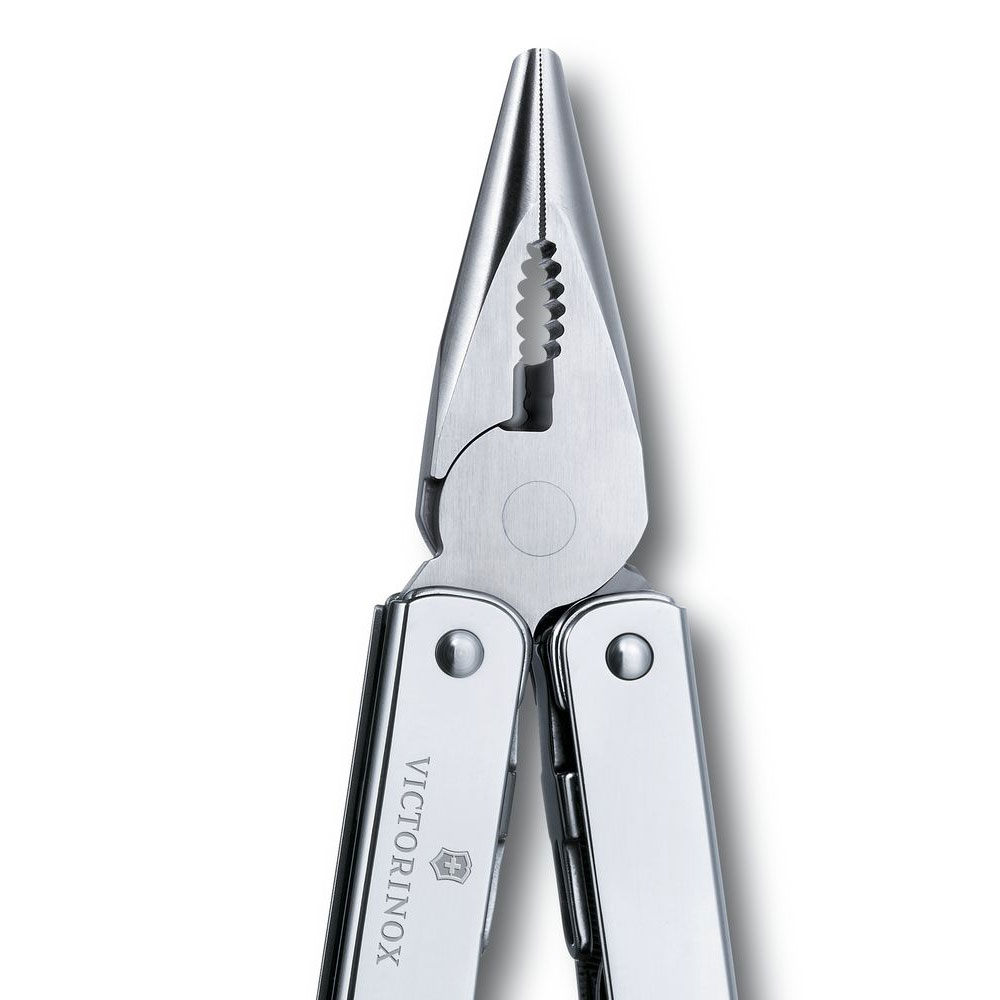 This is the largest tool on the Swisstool XC plus. These sturdy and practical pliers are the central feature that this tool revolves around. As well as fine ridging on the 'closed' part of the jaws they pliers have larger 'wrench' style ridges in the open part to cover all bases.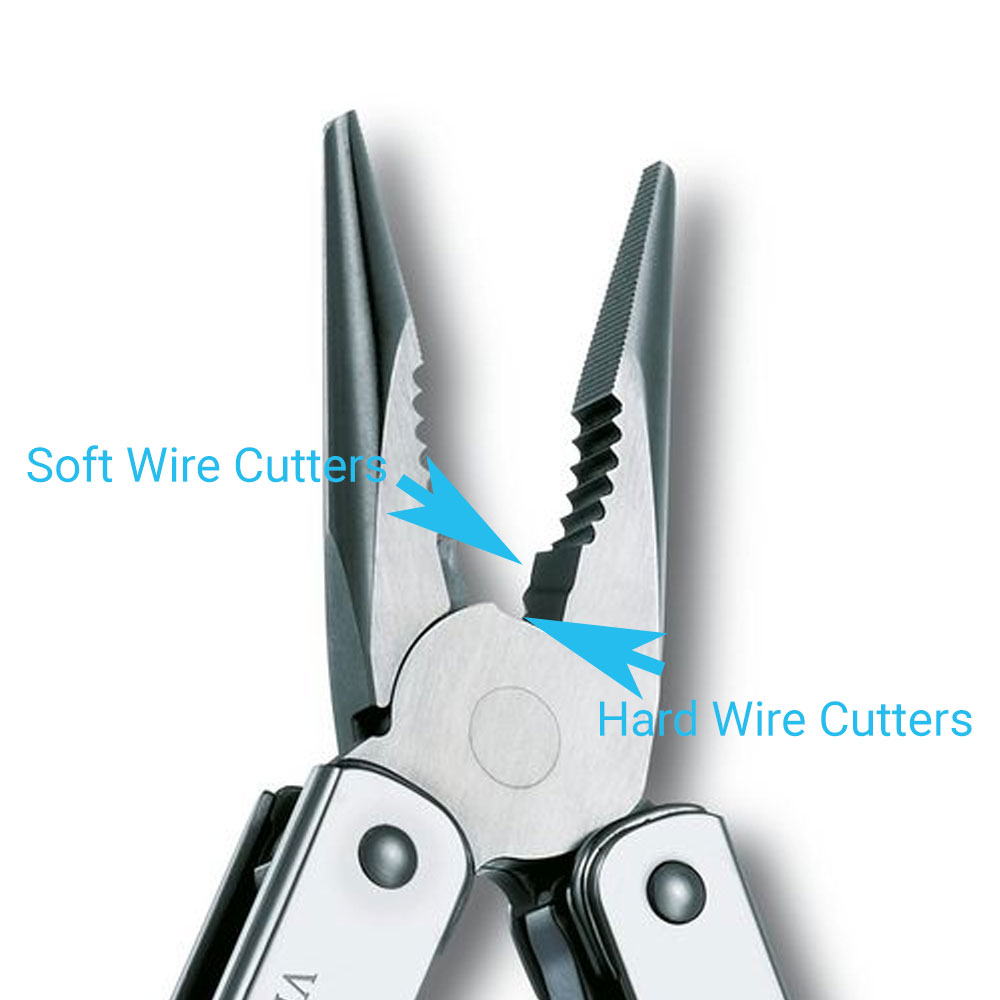 The pliers also feature two separate cutters for soft and hard wire.
Bottle Opener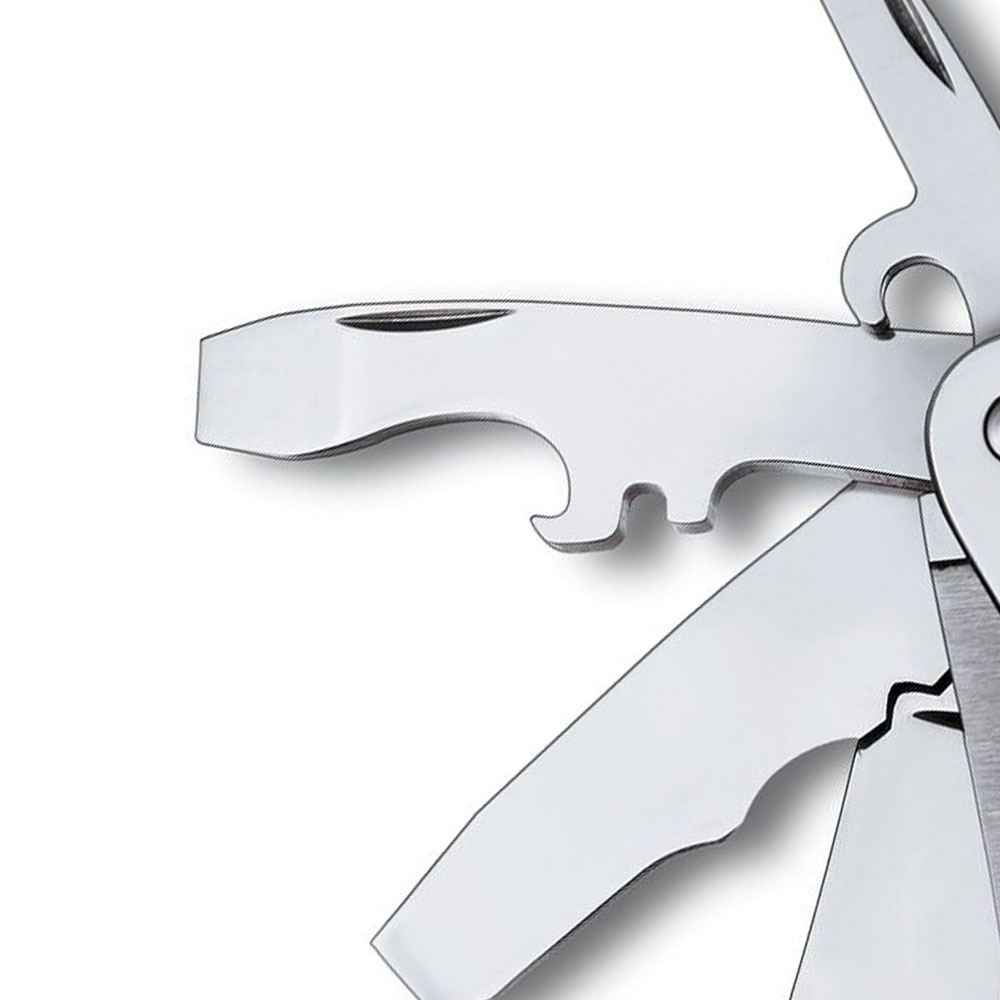 The Victorinox SwissTool Spirit XC Plus has a handy bottle opener which also features a sturdy 6mm flat head screwdriver at the tip which also serves as a small pry bar. It also has a small inset for bending wire.
Combi Edged Blade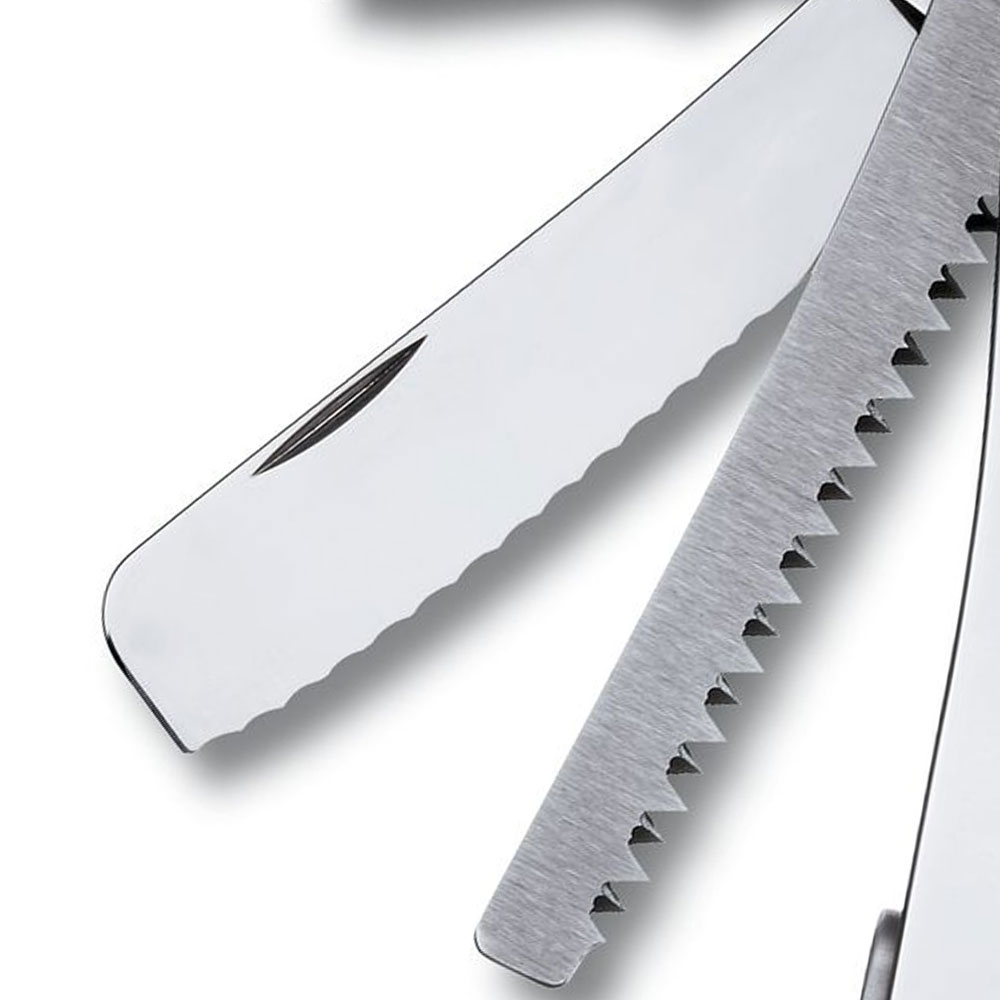 The 6cm blade made from high quality stainless steel has a series of serrations as well as a flat cutting edge for extra flexibility and cutting power.
Scissors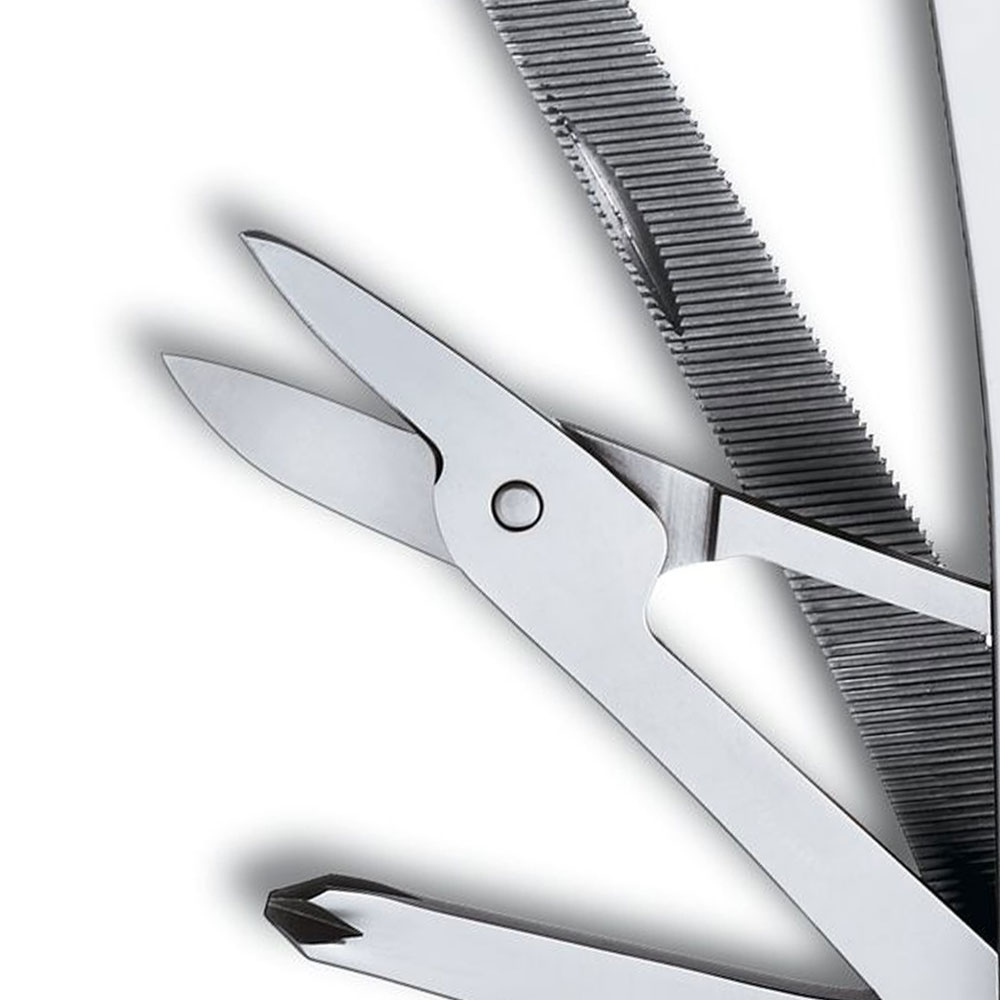 A handy pair of sharp scissors is easily deployed, and they include a sturdy spring mechanism for easier opening and closing.
Metal File & Saw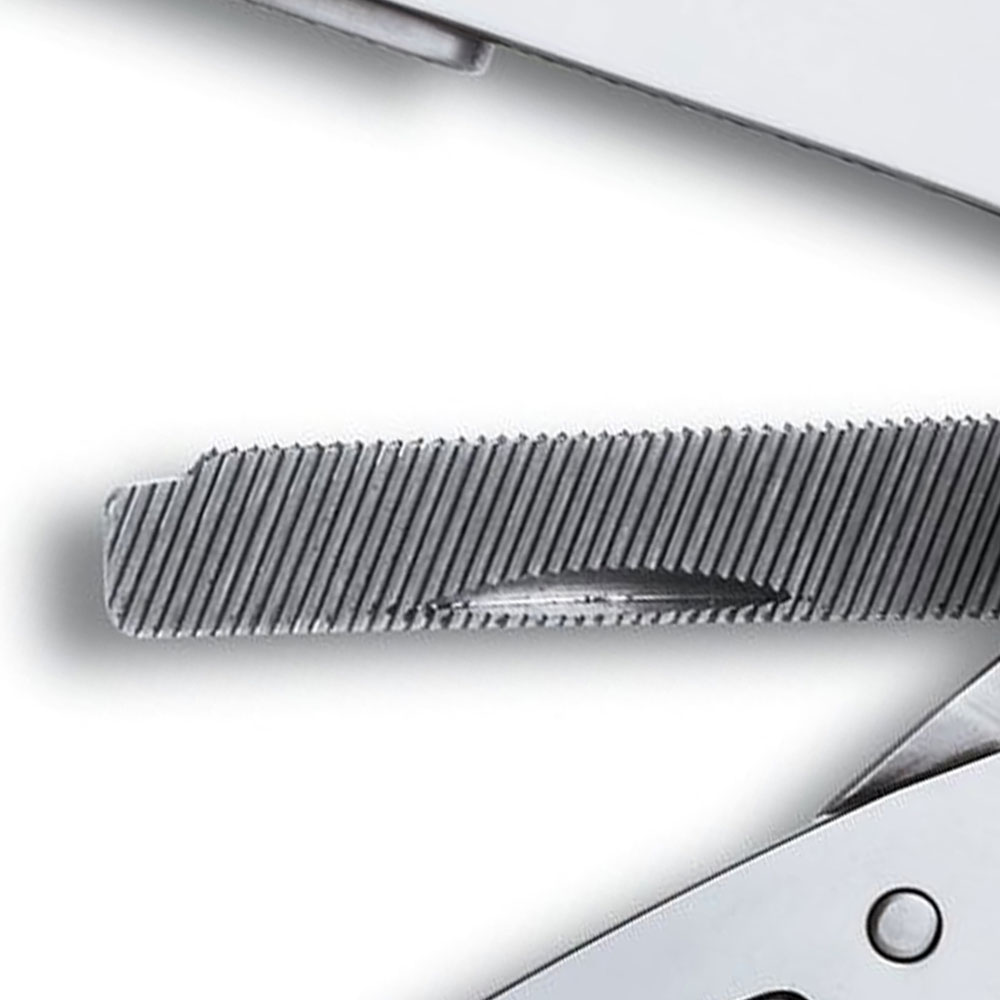 A tough metal file is included in this practical multi tool, ideal for removing burrs from all manner of material. The edge of the file is serrated for cutting metal.
Wood Saw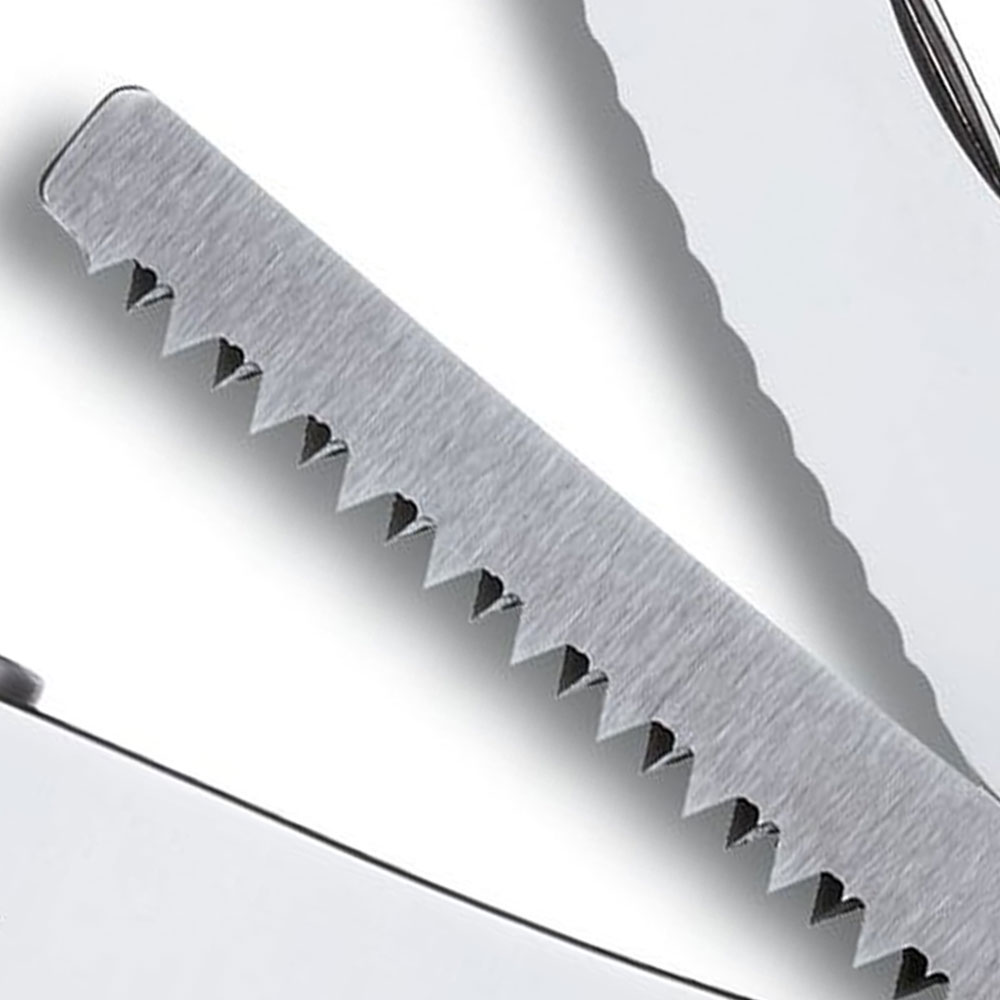 So, you can cut metal with the file saw combo but what about wood? Fear not, the Victorinox SwissTool Spirit XC Plus has you covered. It's a robust 6.5cm with alternating super sharp serrations for extra bite.
Reamer & Punch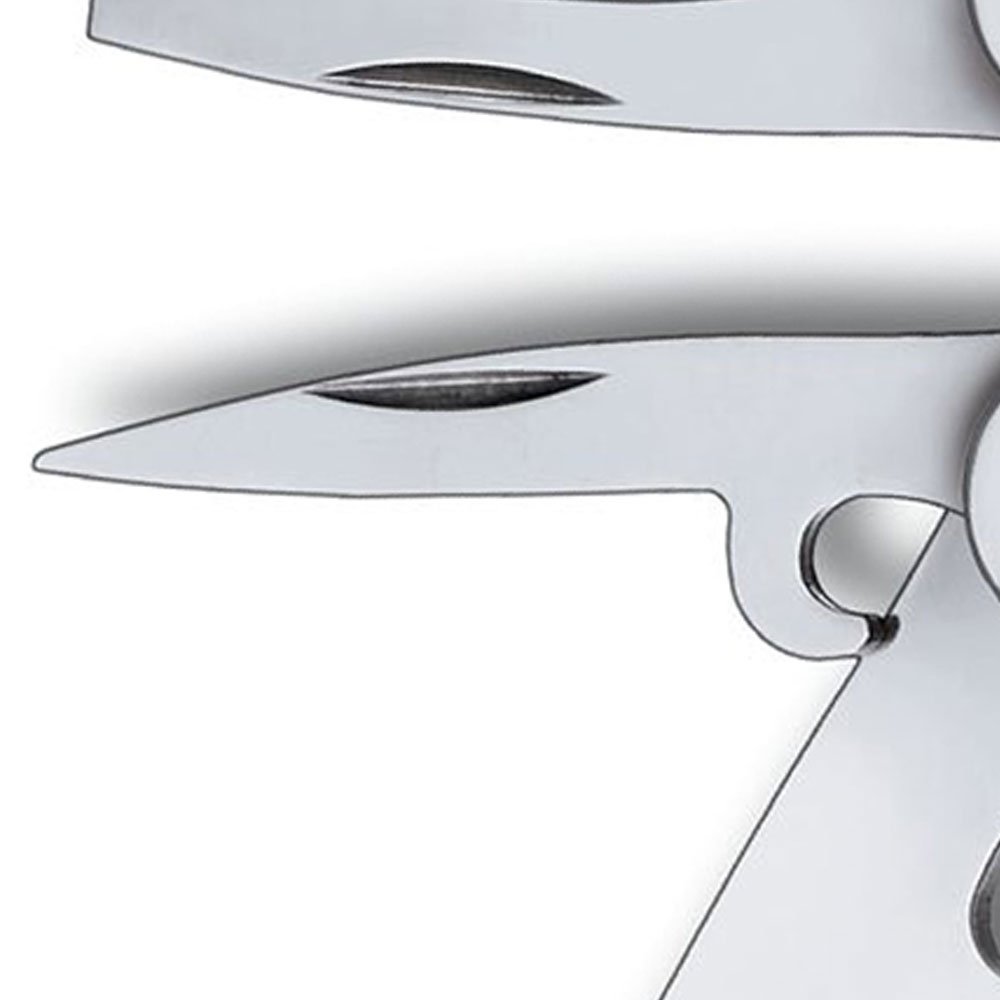 No Swiss Army knife would be complete with this particularly useful reamer/punch tool. Ideal for creating holes. It comes complete with a hook built into its base.
Phillips Screwdriver
The Phillips screwdriver is a solid piece of kit that should prove eminently useful.
Chisel, Scraper & Wire Tool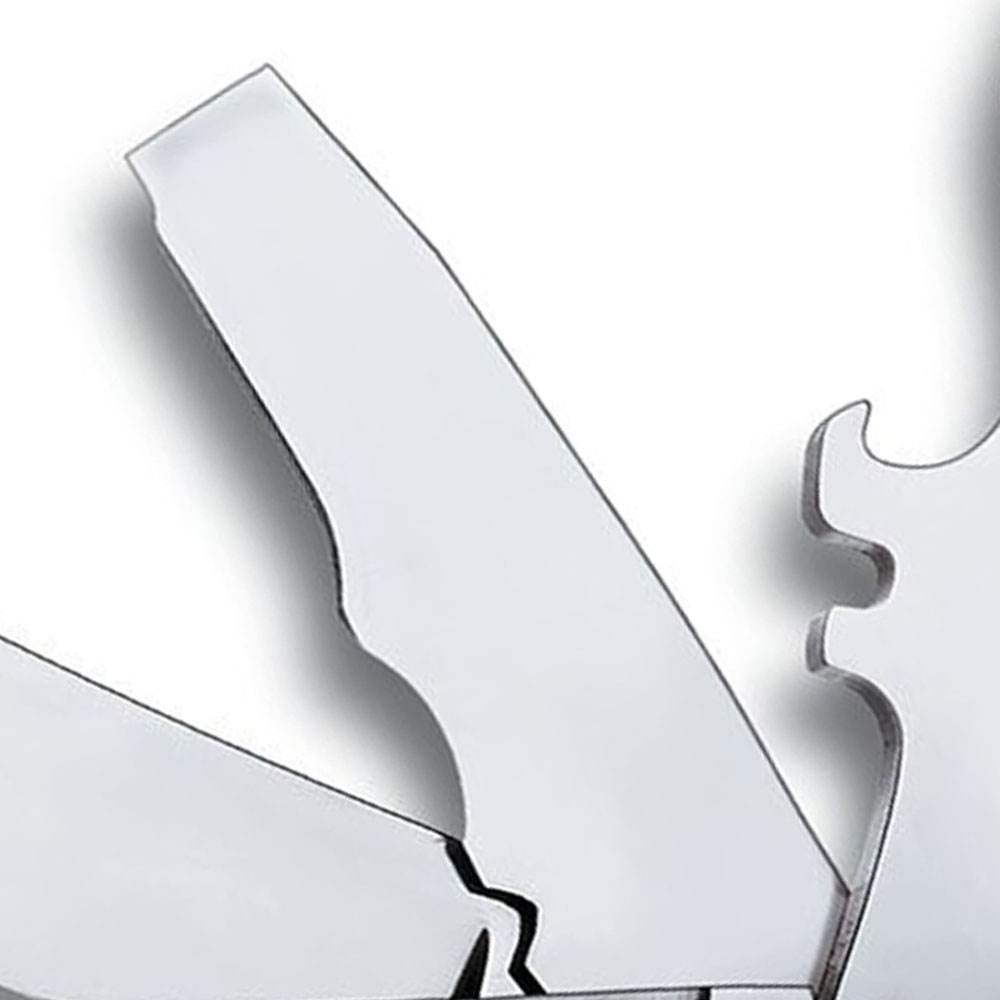 This handy sharp ended tool has a number of built in uses – chisel, scraping tool, wire stripper and cable cutter. Clever design has allowed them to fit a multitude of useful tools on a single piece of this wondrous device.
Can Opener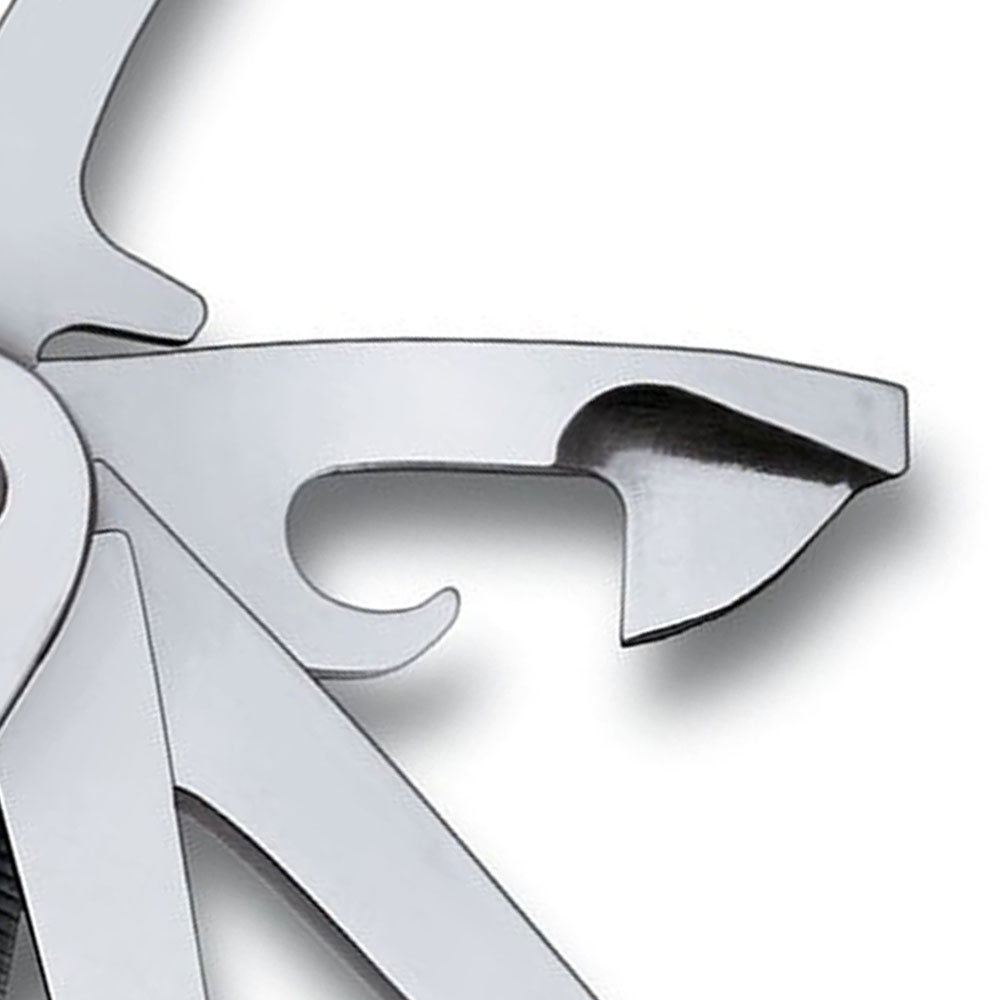 Would a Swiss Army tool be complete without this old school can opener? A tried and tested design that has allowed many a hungry person access to tinned food.
Corkscrew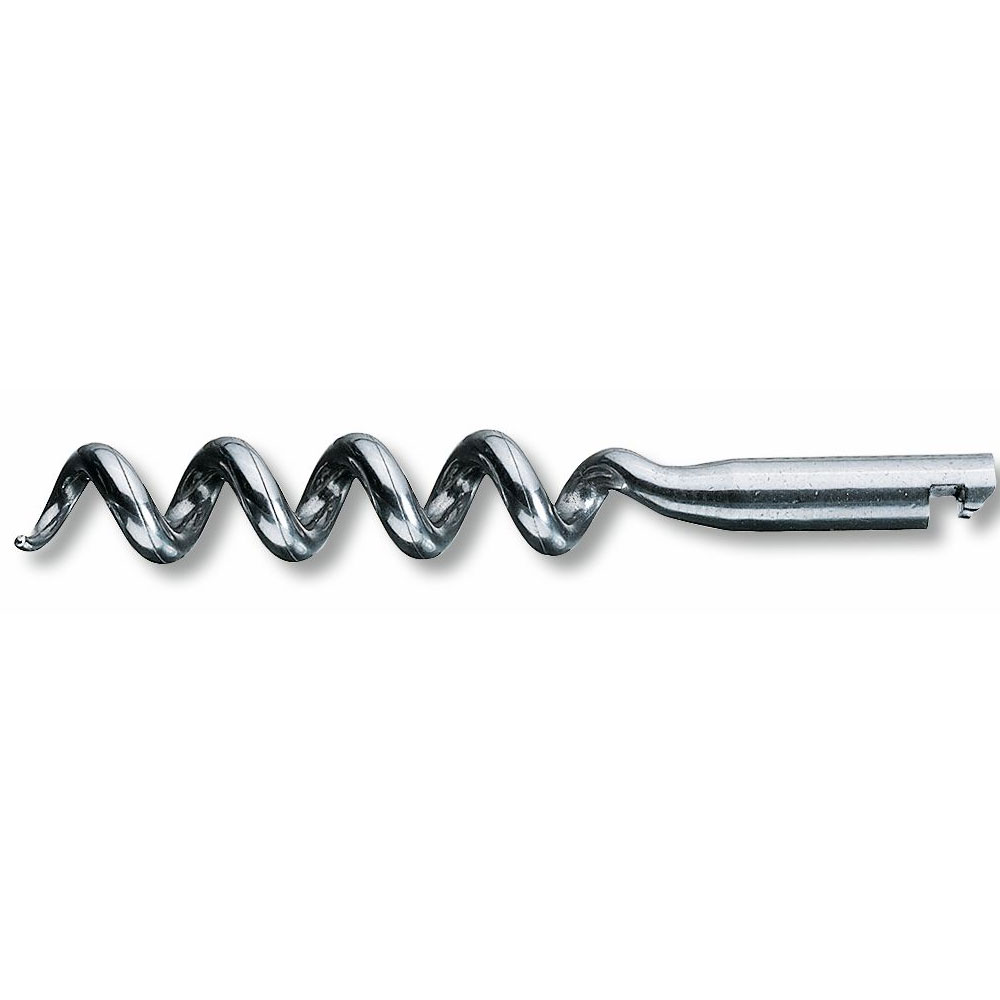 The corkscrew is separate from the main body of the tool, kept handily in the beautifully made leather pouch. It locks into place at the side of the tools body.
Mini Screwdriver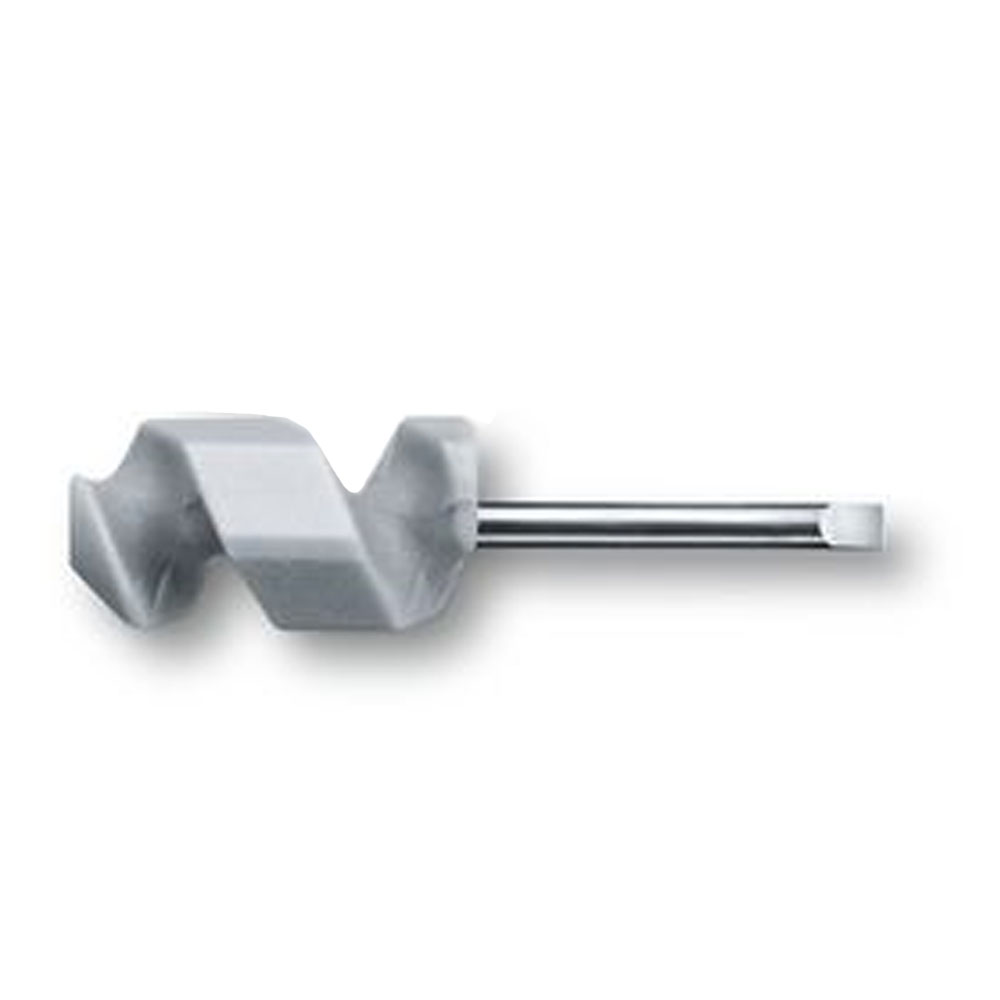 The mini screwdriver is a triumph of design. It's the right kind of size for repairing spectacles and the like and actual lives symbiotically with the corkscrew. It features a spiral body which fits perfectly inside the corkscrew. Untwisting it, reversing it and screwing it back in gives you a really handy screwdriver designed to tackle tiny screws.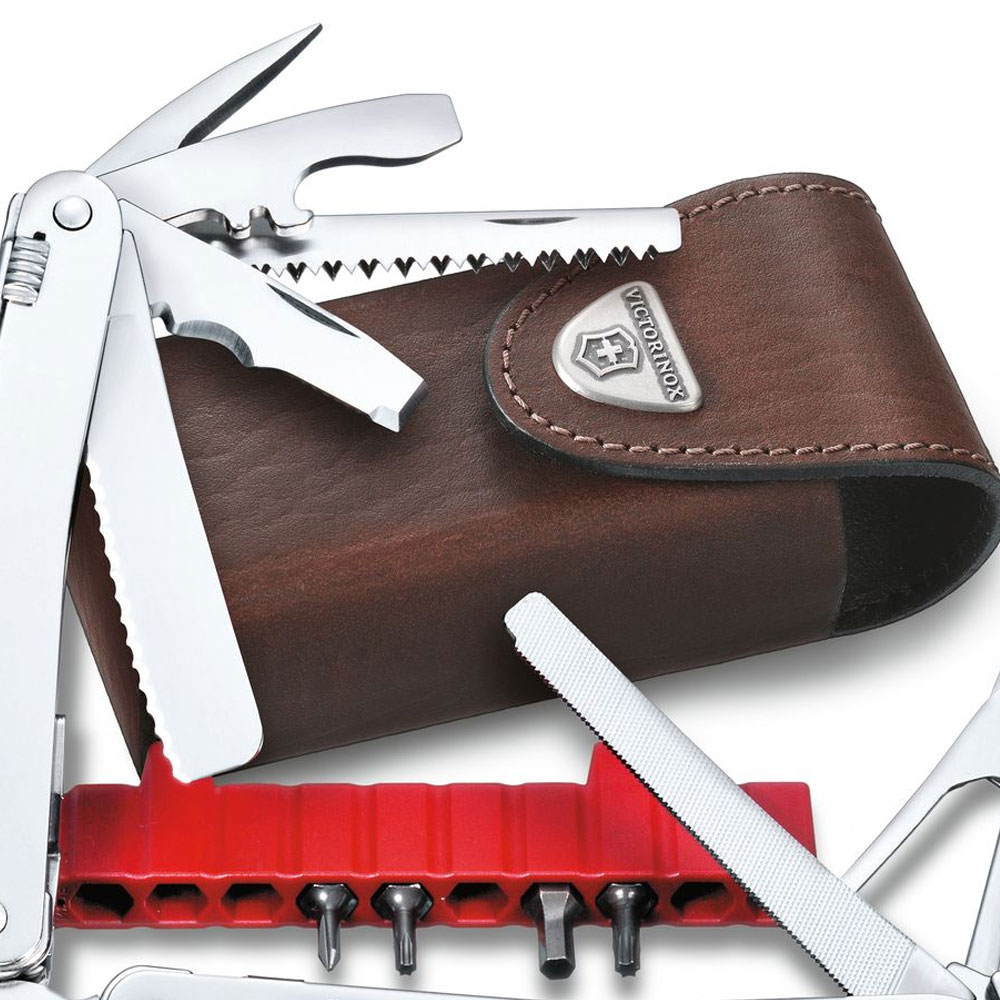 The SwissTool XC Plus comes in a really well made, sturdy leather pouch. Aside from the tool and the corkscrew, it also includes a bit wrench set with a variety of different sized phillips heads, hex and torx bits. The wrench bit set has space to add your own bits if you like as they are universally sized.They really have thought of everything with this tool!
As an extra bonus, all of the tools in the main body lock in place with switches on the sides used to unlock the various tools. This is a great safety feature and removes the fear of a tool folding shiut whilst in use.
The Victorinox SwissTool XC Plus has it all, it really is a tool for all occasions. It's also incredibly good value for money when you compare it to other well know multi tools whose name I will not utter (rhymes with 'weatherman'). The overall look and feel is really nice with polished, high quality stainless steel being the order of the day.
---
If you're looking for the perfect pocket multi tool, then look no further. If this tool can't do it, then you need to call someone in to help, as it means it's possibly not doable without a professional! The sheer variety of features on this multi tool offers amazing value for money.