Honshu (本州) is the largest of the Japanese islands and is home to the capital of Japan, Tokyo. It is also the name given to a range of United Cutlery knives designed to be 'Razor Sharp and Rock Solid'. The United Cutlery Honshu Toothpick lives up to this tagline and then some!
I reckon I could write 3,500 words on this review and it still wouldn't be as long as the blade on this knife! It's an absolute beast of a knife – and this raises a question in itself. Is it a knife or is it a machete? At 12″ long it could qualify as a machete…but for the purposes of this review we'll call it a knife, plus it's unlikely to be used to clear brush, so it seems sensible.
The blade on the United Cutlery Honshu Toothpick is a full tang, foot long monster made from 7Cr13 steel, polished to a mirror finish and with an edge so sharp you could shave the hair off a fly's legs.
Let's take a look at the blade in more detail. It's 7Cr13 steel which is an entry level steel falling somewhere between 420 and 440A steel. It's corrosion resistant and easy to sharpen although it may not hold an edge as well as more expensive steels. Having said that, the sheer amount of steel you get in this knife makes it incredible value for money. Out of the box, it's razor sharp and the sheer amount of edge available makes this an excellent knife for cutting and slicing.
The Honshu Toothpick has a solid tang and the blade features some 'thru holes' to reduce the weight, although I was pleasantly surprised at how controllable it is despite it's size.
The handle is a nicely shaped, ergonomic and is made from TPR for a grippy slightly rubbery feel. The handle has some good ridges so that the handle would remain grippy even when wet. The shape of the handle fits the hand really well and actually gives a surprising amount of control for such a big blade. A couple of heavy duty screws and a useful lanyard hole completes the handle. The guard is solid and substantial and helps give the knife a nice overall balance.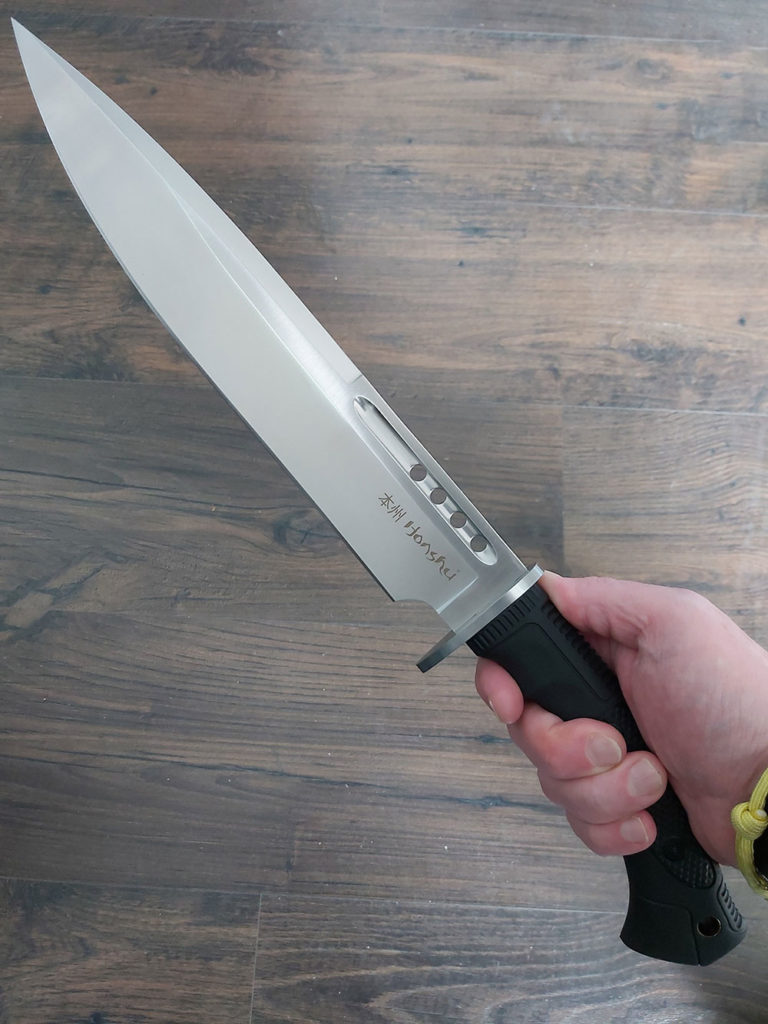 In the hand, the United Cutlery Honshu Toothpick is very comfortable. The handle has a slight curve with nicely shaped finger grooves and the slightly rubbery provides a nice grip. Despite it's massive size, this is a controllable blade – the balance is such that it in no way feels as heavy as it looks. This is a very good looking knife, the design of the handle and the proportions make for an attractive package.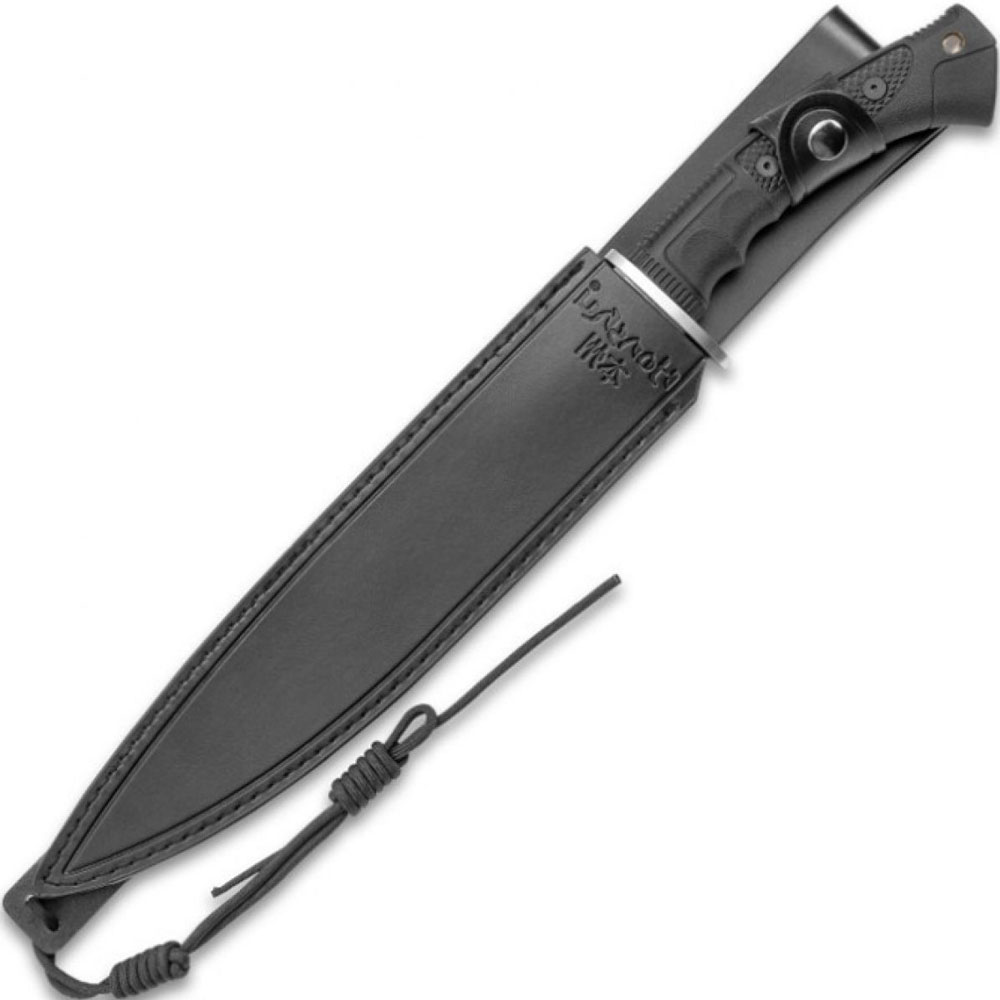 The sheath is made from premium, thick black leather with some nice details such as an embossed logo and a paracord lanyard. It has a feeling of high quality and fits the knife snugly – the sheath is solid and large and suits the knife perfectly. If it had been made from anything else it just wouldn't suit the knife as much.
If you're looking for a large fixed blade knife that is both appealing and offers excellent value for money, you need to consider the United Kingdom Honshu Toothpick – you would not be disappointed.
---
Overall the United Cutlery Honshu Toothpick is a really nice package, a great looking knife and excellent sheath that offers phenomenal value for money.