Clad stealthily in black, the Kershaw Secret Agent is a boot knife that will leave you both shaken and stirred.
This spear point knife from Kershaw is an update to the classic boot knife and features some nice touches, worthy of a tactical fixed blade.
The first thing you notice when you pick this knife up is how light it is. The blade is a slender 4.4″ of 8Cr13MoV steel. 8Cr13MoV steel is similar in composition to AUS-8 but with a slightly higher amount of carbon, so whilst not a premium steel, it's a good quality low cost option for a knife blade.
The treatment of 8Cr13MoV steel is key to it's quality and you can be sure that Kershaw have got the best out of it.
It's a hard steel, with good anti corrosion properties and should retain an edge well. It's also easy to work with so sharpening the blade shouldn't be an issue.
The blade on the Kershaw Secret Agent has a single sided edge, but it wouldn't take a lot of work to put an edge on both sides – the blade is 3.1mm at it's thickest point and is symmetrical. For added protection and to add to the tactical appeal there is a coating of matte black oxide.
Out of the box, the tip is incredibly sharp, but the edge will need some work. Whilst it is sharp, it isn't as sharp as it could be by any means.
This is a full tang knife that has a feeling of solidity but is still surprisingly light. Given that the blade is relatively thin, you wouldn't be able to use it for tough jobs – it's not a camp companion – but you have a feeling of precision and control that suits the boot dagger style perfectly.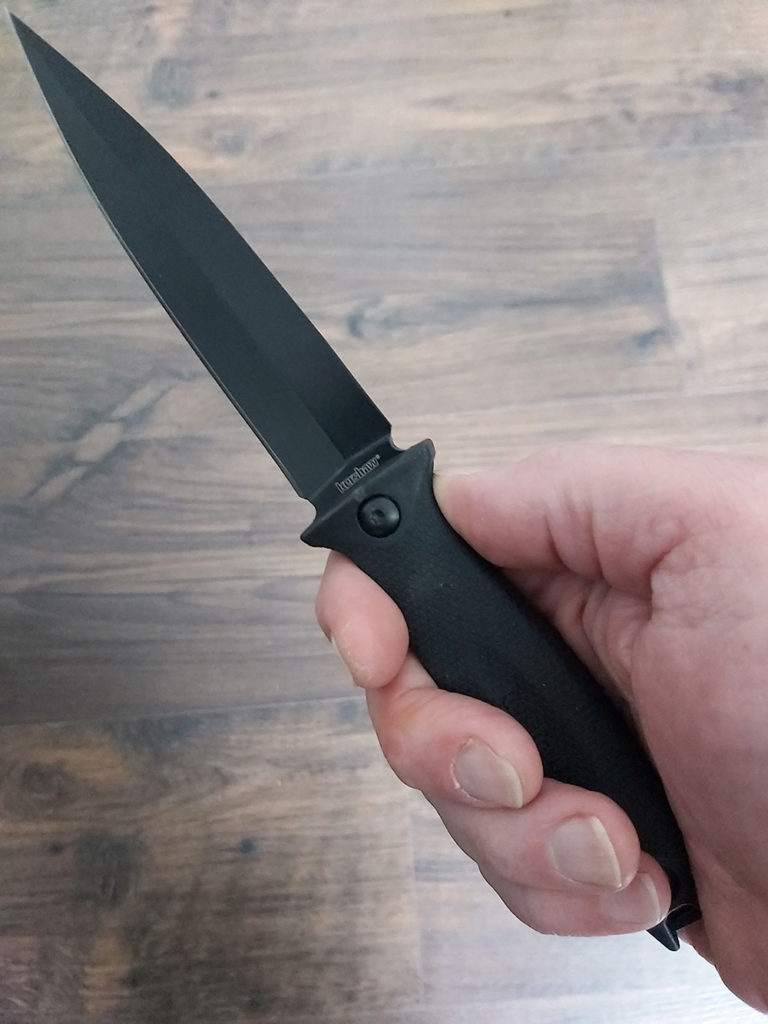 In the hand, the Kershaw Secret Agent feels comfortable and light, the thumbs rest naturally on the rubberised glass filled nylon handle giving a feeling of tight control.
My only gripe with the handle is that I wish it were a little longer. The lanyard hole on the handle end is slightly recessed and the edges pressed into my palm a little. If you were to use it for long periods of time I imagine this would become more of an annoyance, but given the function that this knife is designed to perform, it's unlikely to be a major issue.
The dual carry sheath feels solid and well thought out. It's an all black number made from moulded plastic with a tough metal belt clip on one side. There are also slots for webbing and multiple lashing holes for different carry options.
The knife fits in the sheath very snugly and once in place the knife is not going anywhere. Whether this would loosen up after repeated use remains to be seen, but out of the box it's as tight fitting as any sheath I've encountered.
All in all the Kershaw Secret Agent is a cool tactical fixed blade knife with a solid pedigree and is made from decent, if not high end, materials.
For the price, it's a great knife worthy of consideration.
---
Whether you're hiking through the woods and need a light and practical carry or you're about to tackle a Super Villain in his top secret layer, the Kershaw Secret Agent has your back.