Are you looking for a tiny knife? You are?
Then perhaps you should have attached it to your keyring and you wouldn't have lost it in the first place. That'll teach you.
Never mind, you'll be needing a new one then, and this teeny folder is just the ticket.
The Kershaw Diode is a beautifully compact folder with great features such as glass filled handle, sturdy liner lock and a decent quality bead blasted blade. It's also got a chunky backspacer with an oversized lanyard hole that can double as a flat head screwdriver.
The 1.6″ blade on the Kershaw Diode is made from 3Cr13 steel and has a decent edge straight out of the box. Sure, 3Cr13 steel isn't a premium steel, but for a handy to have box cutter it's more than adequate. As a low cost steel option it's hard and has decent edge retention whilst being easy enough to maintain.
The blade is a drop point affair, with a bead blasted finish that gives it an attractive matte grey appearance. There is a recess in the blade that is too wide to be simply called a nail nick. It's more like a nail channel and it provides plenty of space to get a thumb grip for a slightly fiddly one handed open, if speed is your thing. Some shallow jimping on the spine add thumb grip for a controlled cut without detracting from the profile.
There is also some jimping on the backspacer so if you are using it as a screwdriver, your grip is that much more improved.
The handle is a matte black glass filled nylon job, with some texture which adds grip. The handle has cutouts on front and rear so that the frame lock is partially visible. This further reduces the weight of this knife to a meagre 1.1oz.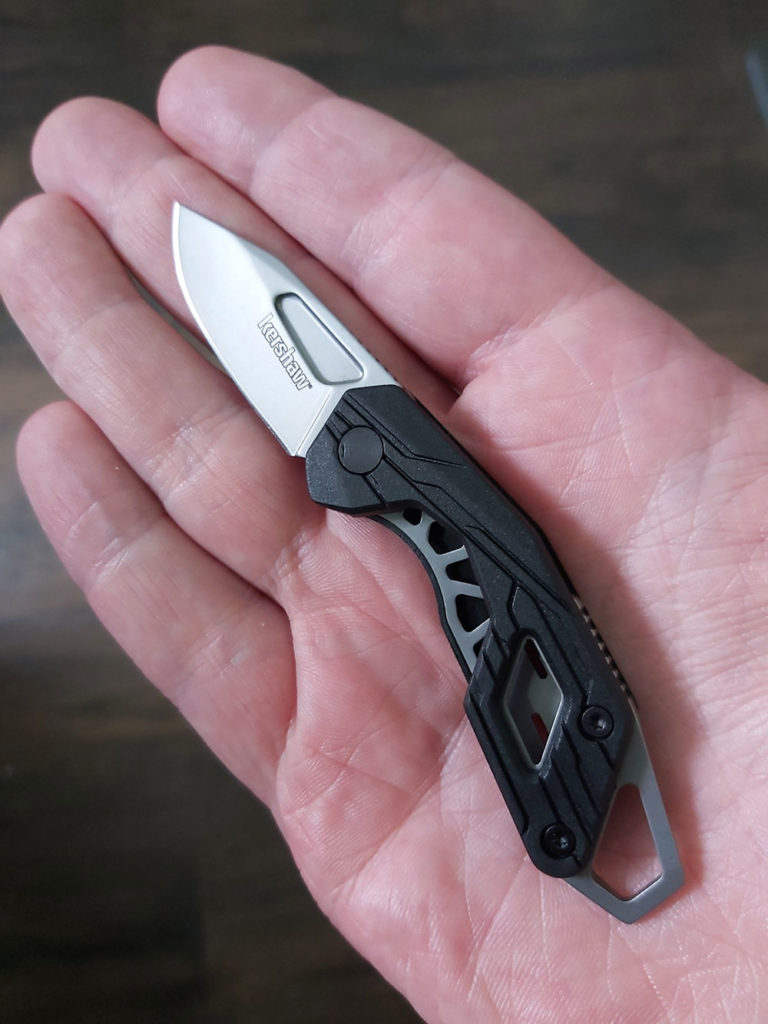 In the hand, it's surprisingly grippy, with nicely positioned jimping and curves which fit the hand nicely. Using the screwdriver end was solid too, nice grip and no danger of the hand slipping. In a pinch, this handy tool will do the job. End to end when fully open it's only 4.5″ so not really designed for big jobs but that's not what it was designed for. It'll cut cord or break down a box easily enough and that's exactly what the Kershaw Diode is for.
It's a lightweight and very compact folder than you can keep on your keyring, pocket or purse without taking up too much space.
---
The Kershaw Diode is a teeny folder that is easy to live with and very practical. I'm still deciding whether I prefer this or the equally diminutive Kershaw Cinder. It's great to have so many great choices for keyring ready knives.