This streamlined folding pocket knife is a classy looking affair, but looks aren't just skin deep in this case, it has the chops to back it up.
The first thing you notice about the Kershaw Highball is it's sleek profile. It's super slim, with a width of just 11mm and a sweeping side profile reminiscent of a high end speed boat. It's a mainly matte grey affair, with a blue ring circling the pivot which provides a nice contrast.
It's actually a knife that looks considerably more expensive than it is and the materials used offer great value for money.
The blade is a good quality, with two tone D2 steel used in the sweeping clip point design. The PVD coated recess allows good finger access for easier opening. You could, with a bit of practice, open this with one hand, but I found it a bit too slender for my chubby mitts to do this easily.
The blade, measuring 2.8″, is a decent length for cutting and slicing and continues the sleek lines by being relatively thin. This is a pocket folder, not a camp knife, so the slim blade is fit for purpose in that regard. It wouldn't be suitable for really tough jobs though. Jimping on the spine is unobtrusive and doens't detract from the sleek looks but does provide a bit of grip to prevent the thumb from slipping.
D2 is a great knife steel, high carbon with excellent edge retention. It falls just short of being truly stainless so a bit more blade care may be required, but it has enough chromium content to make it better at resisting corrosion than some other high carbon knives.
Out of the box the blade is razor sharp, there would be no need to work on the edge before putting it to work. Given it's made from D2 steel, edge retention should be very good and over the longer term it should require less overall maintenance.
The handle is all steel too giving a feeling of solidity and strength. It also adds some weight to the knife, which gives this streamlined folder a sense of sturdiness that belies it's size.
My only issue with a completely smooth metal handle is the potential loss of grip. Those with a sweaty handed disposition may want knife scales with a bit of texture.
Having said that, for the kind of work this knife is going to do, it's not a massive issue. It's unlikely to be used for long periods of time and isn't going to be tackling tough jobs, so smooth scales are more than suitable – anything else would detract from how aesthetically pleasing this knife is.
The pocket clip lives on the same side of the sturdy frame lock but it isn't reversible. It'd be down to personal preference whether this would be an issue or not – personally I found it comfortable in both hands, but some may prefer a reversible clip if they pocket carry and actually use the clip to secure it in place.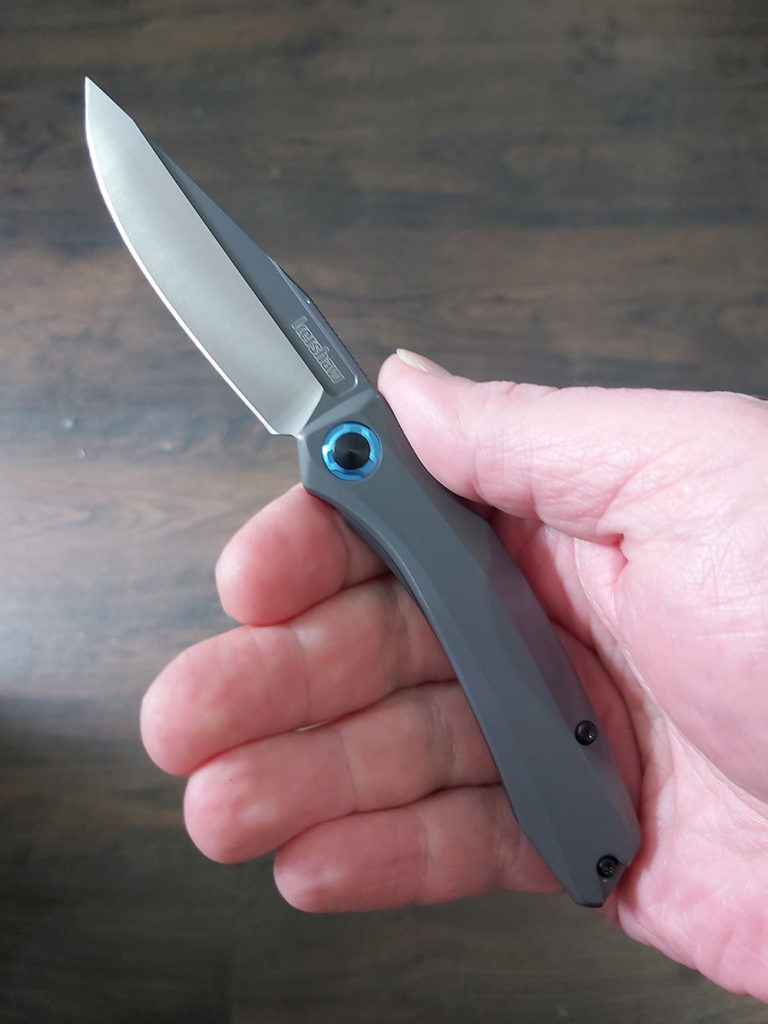 In the hand, the Kershaw Highball feels comfortable and smooth. The positioning of the jimping and the shape of the handle helps you keep the sharp blade under tight control.
Overall, I like this knife. I'm normally not a massive fan of tiny slick folders, preferring a chunky tactical look and feel, but this has definitely grown on me.
---
All in all the Kershaw Highball offers really good value for money – quality materials and a solid build mean this will be a long term knife that should require little in the way of ongoing maintenance.
If you like a knife that is slim, streamlined and good looking, this could be the pocket folder for you.