The Kershaw reverb is a great looking manual folder with a solid frame lock that has the kind of materials that you'd normally be expected to spend a lot of money on.
This is a sleek looking knife, the G-10 handle is overlaid with carbon fibre making it smooth to the touch, adding strength without adding weight. This makes it an ideal carry for trekking where light kit makes all the difference.
The blade is a substantial 2.5″ of 8Cr13MoV steel. It's not a premium steel by any means, but at this price point it's still a very solid performer. 8Cr13MoV is classed as stainless steel, with a decent hardness and good edge retention. This makes for a blade that is hard wearing yet easy to maintain. Out of the box, the gently curved edge is super sharp and ready to go. It's pass the shave test without reaching for the whetstone.
Kershaw have taken it one step further by coating the grinds with titanium carbo-nitride and leaving the flats machines satin for an attractive two tone look. The titanium carbonitride adds an extra layer of toughness to an already decent blade.
The blade has a machined recess rather than a nail nick. In practice this is a shallow groove on one side of the blade which helps with a one handed open.
It does take a bit of practice to pull this off though, as the rest of the handle is so slim I found it quite difficult to keep the handle gripped securely whilst trying to use my thumb to open the blade. Not everyone suffers from sausage hands like me though, so it may be easier for others. This isn't a deal breaker for me personally, my ingrained knife safety makes me prefer a two handed open anyway.
Kershaw claim that the groove replaces a thumb stud so there is nothing to catch on in the pocket so you can get at it more easily.
As previously mentioned, one side of the knife has a G-10 scale with an overlay of carbon fibre. Fancy!
The opposite side of the handle features a part coated, part satin surface with a non reversible deep carry pocket clip.
Alongside the pocket clip there is a cutout bordered by a handy carabiner. As an alternative to a lanyard hole it's a good idea – it certainly makes clipping to a belt or a bag that much easier and reduces the overall weight of the knife.
The frame lock is not in the usual position on the Kershaw reverb, it's actually inset from the edge. This adds more solidity, but it also makes pressing the frame lock to fold the knife a little bit fiddly, especially for a chunky fingered individual like myself.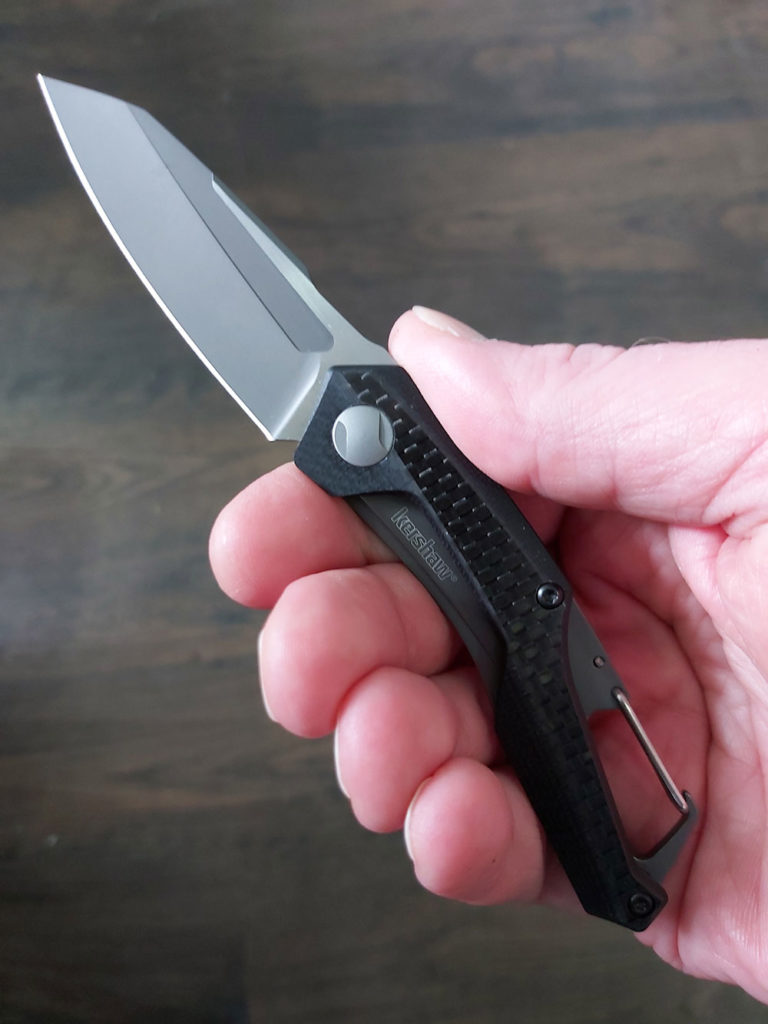 In the hand the Kershaw Reverb feels comfortable, with a handy recess at the bottom of the blade that fits the thumb nicely allowing for a controlled cut.
This knife is well suited for a pocket carry but wouldn't be usable for those tough camp jobs – it's just not big or solid enough – but for cutting and slicing it'd be a solid performer.
All in all, it's a sleek easy carry with some good materials. If how a knife looks is important to you, then this would be a good choice as it has sleek aesthetics reminiscent of high end design.
---
The Kershaw Reverb is a sleek and aesthetically pleasing knife that would be perfect as a carry when travelling light is important. Given it's mix of decent steel, carbon fibre and fancy titanium coating it's a wonder this knife doesn't cost a lot, lot more than it does.
Taking all this into account, this is a very good value pocket folder indeed.