Despite what you may have heard, size isn't everything. Honestly.
The Kershaw Cinder may be a tiny folder but at it's core are the same kind of features you'd find in a much bigger knife.
Let's get the size over and done with so we can focus on the features. 'Feel the quality, not the width' as someone wise probably said once.
When fully open, the knife is 4″ with the blade taking up only 1.4″ of that length. When closed it's about the size of a standard Yale lock key and when open it's slightly longer than a credit card.
Despite it's tiny stature, there is a lot to like about this knife. The stonewashed blade is made from 3Cr13 stainless steel. It's not high end by any means, but for a blade this size, it's more than respectable. It's unlikely that you're ever going to use this for a tough task – it's going to be a cord and box cutter primarily and for these kind of jobs it'd perform admirably.
There is some jimping on the spine, and the drop point blade has a nice curve which fits the thumb nicely if you needed to bear down on it to apply some extra pressure.
The blade features a single thumb stud which in theory should aid in one handed opening although in practice this proved to be a little tricky to do.
Out of the box, the edge is decent – not super sharp, but sharp enough to stick it on your keyring without going to town on it first. If you did need to sharpen it, 3Cr13 steel is really easy to sharpen and has decent edge retention.
The handle is made from glass filled nylon, and features a nicely ridged pattern. There's a slender liner lock with cut outs helping to keep the weight low – it weighs in at a mere 0.9oz.
When fully open the lock feels solid enough and there is no play when the blade is locked in place.
The knife has a decent sized lanyard hole and a bottle opener which adds another layer of utility. There isn't a pocket clip – unsurprisingly – this is a knife that really needs to live on a keyring. In the pocket you wouldn't notice it all.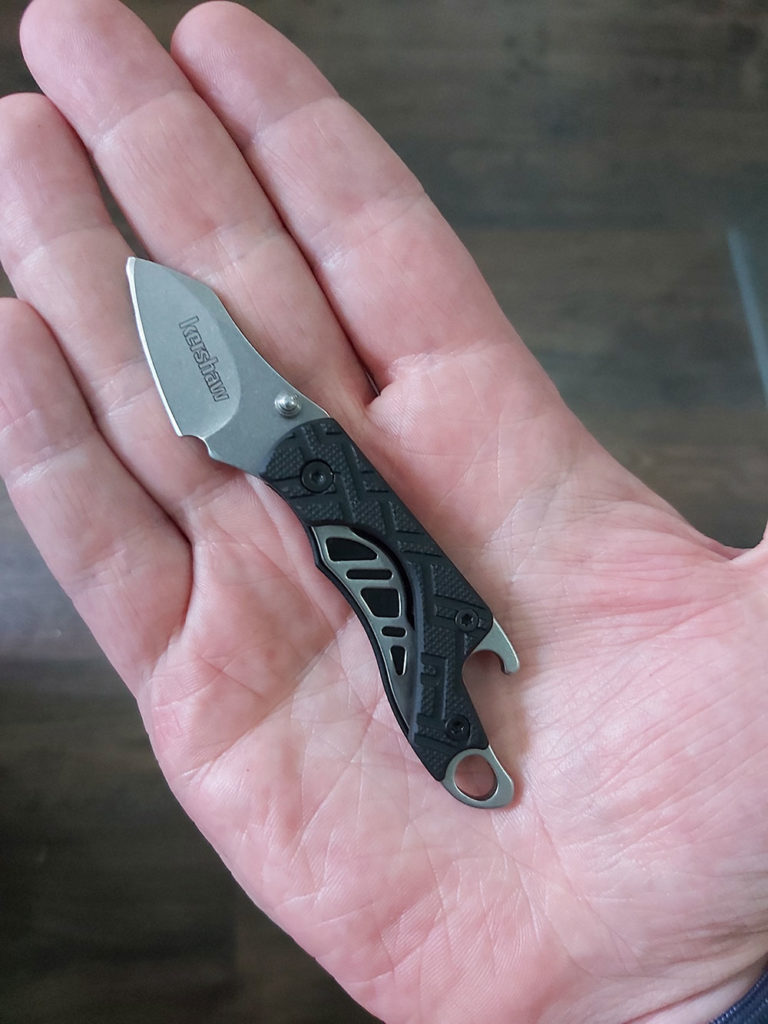 In the hand, the Kershaw Cinder is surprisingly ergonomic. It has curves in all the right places and you can get a number of different grips to suit the task at hand. It's certainly not cut out for jobs that require a bit of heft, it's just too small, but as an always-on-you sharp blade to call upon when require it finds it's true purpose.
To add a bit of spice there is a copper handled version of the knife too, which looks rather spiffing, although it does cost quite a bit more.
Having held both, I prefer the GFN version – the copper handles felt a bit too slippery for my liking although the extra weight (an extra 0.6oz) did give it more sturdy feel.
Honestly, I didn't think I'd get on with this knife at all as my hands are pretty pudgy, but I have to admit I liked it a lot. It has it's limitations, but as a blade that is going to live on my keyring, I'm more than satisfied. In terms of value for money, I'm impressed, it certainly offers better value compared to some keyring knives I've seen.
Remember, it's not the size of the knife that matters, it's what you do with it that counts.
---
If you're looking for a tiny EDC that can live harmoniously on a keyring, this little folder is just the ticket.
The copper version is also available.