The Cold Steel Double Agent I is a super light curved neck knife designed by Zach Whitson, custom knife maker, and Cold Steel. With a superbly comfortable hold and decent quality materials you're unlikely to find a better Karambit style knife at this price point.
The first thing you notice about this knife is just how light it is. Even with the super tough Secure-Ex sheath it weighs in at only 3.5oz. This is not because it has been made with cheap steel, it certainly hasn't, but it has been designed to be slim on purpose. The blade measures in at just 2.3mm thick and the handle follows this slim profile at only 9mm thick. This makes for an easy carry, especially if you're planning a neck carry which the included chain is intended to help with.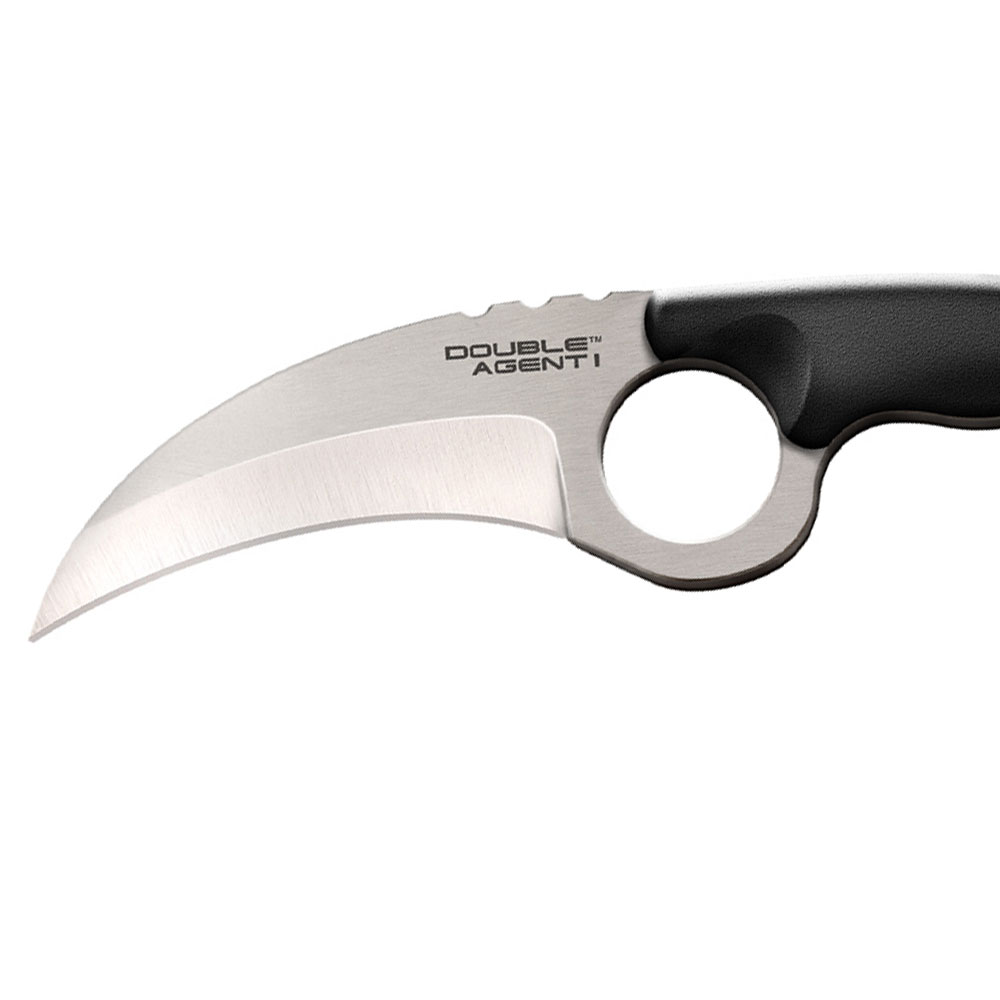 The blade is a karambit style, based on the traditional Southeast Asian agriculture and martials arts knife, with its sweeping hook design and needle-sharp point. The blade is 3″ of AUS 8A steel, so it is tough and highly resistant to corrosion and it has an incredibly sharp blade straight out of the box.
A serrated edge version is also available with the same overall design and slenderness.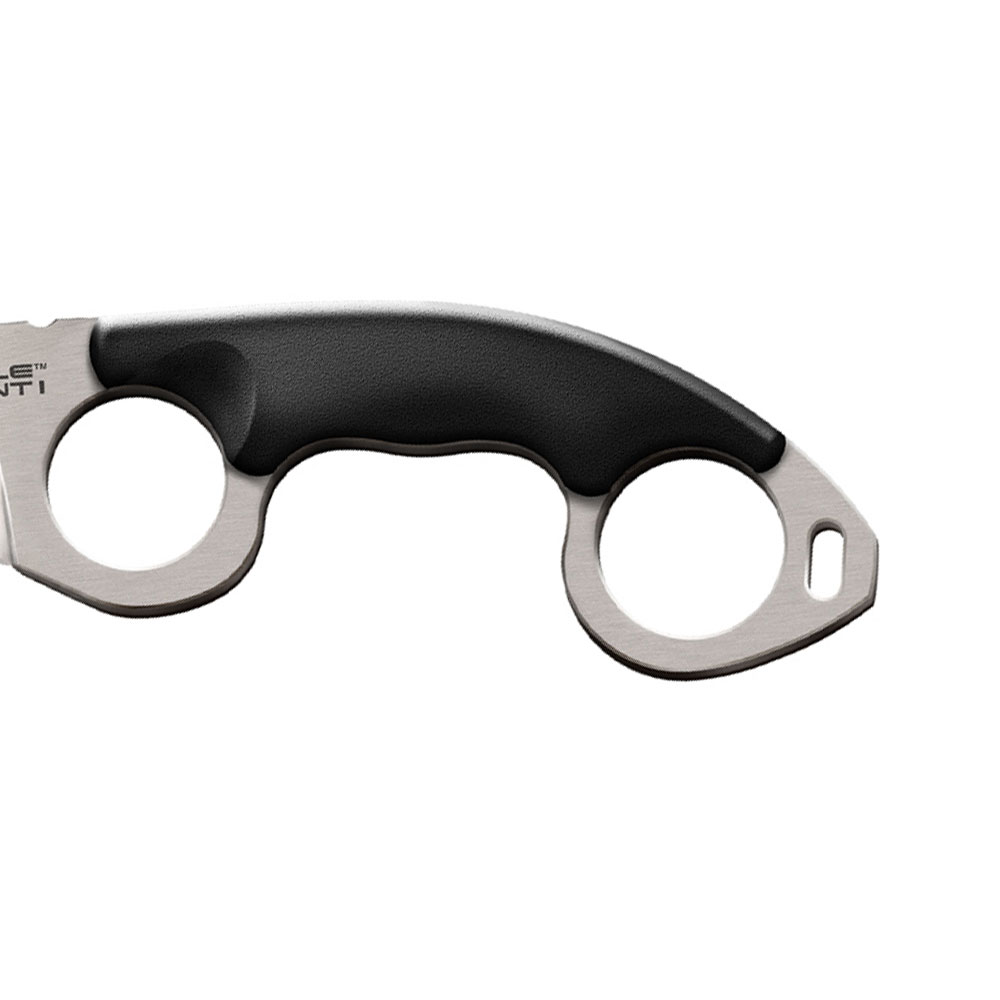 The handle is really eye catching, with its slender Kray-Ex scales partially covering the full tang. What really stands out though are the two large finger rings that form part of the handle. The idea is that your index and little fingers slip through these holes – either traditional hold style or hammer style – and provide a secure and comfortable grip. It also features a decent sized lanyard hole in the end of the handle.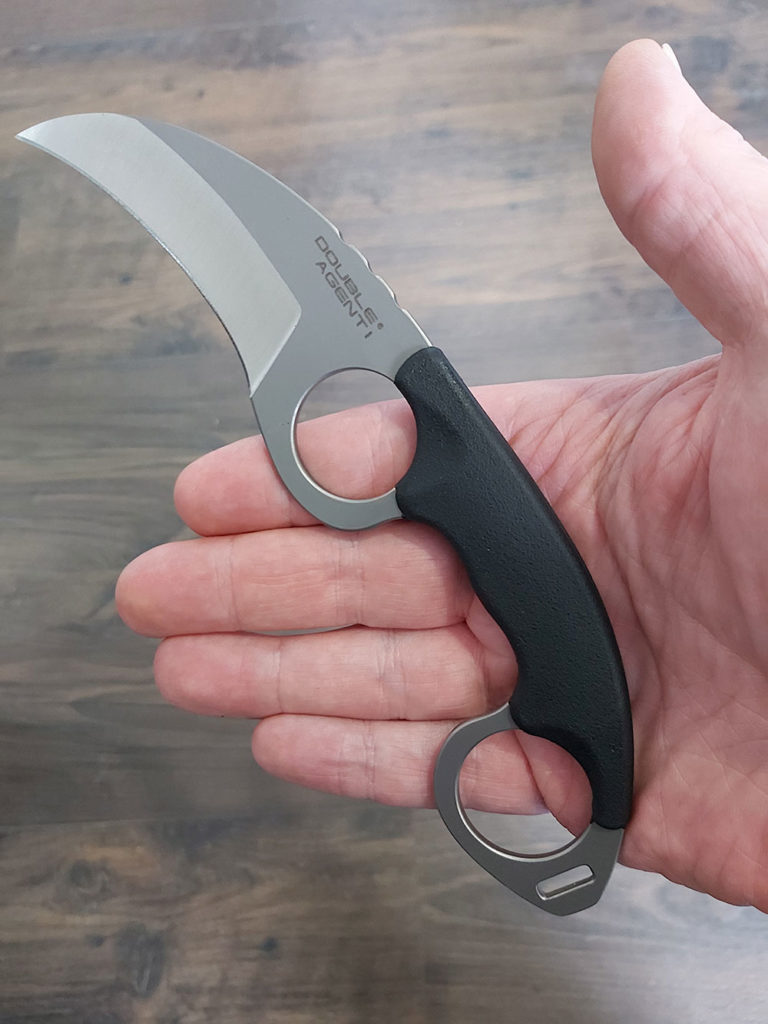 In the hand, the Cold Steel Double Agent I is very comfortable to hold. It feels almost flat and it is so light you barely know that it is there. It is designed as a neck carry knife, so lightness is key. The way your fingers slip through the large handle rings gives an extremely secure feeling grip. The scales are a single piece of Kray-Ex which completely wrap around the handle and feel slightly textured. No rubbery coating is on offer here though – if you're holding it properly extra grip is not needed and would just add to the weight.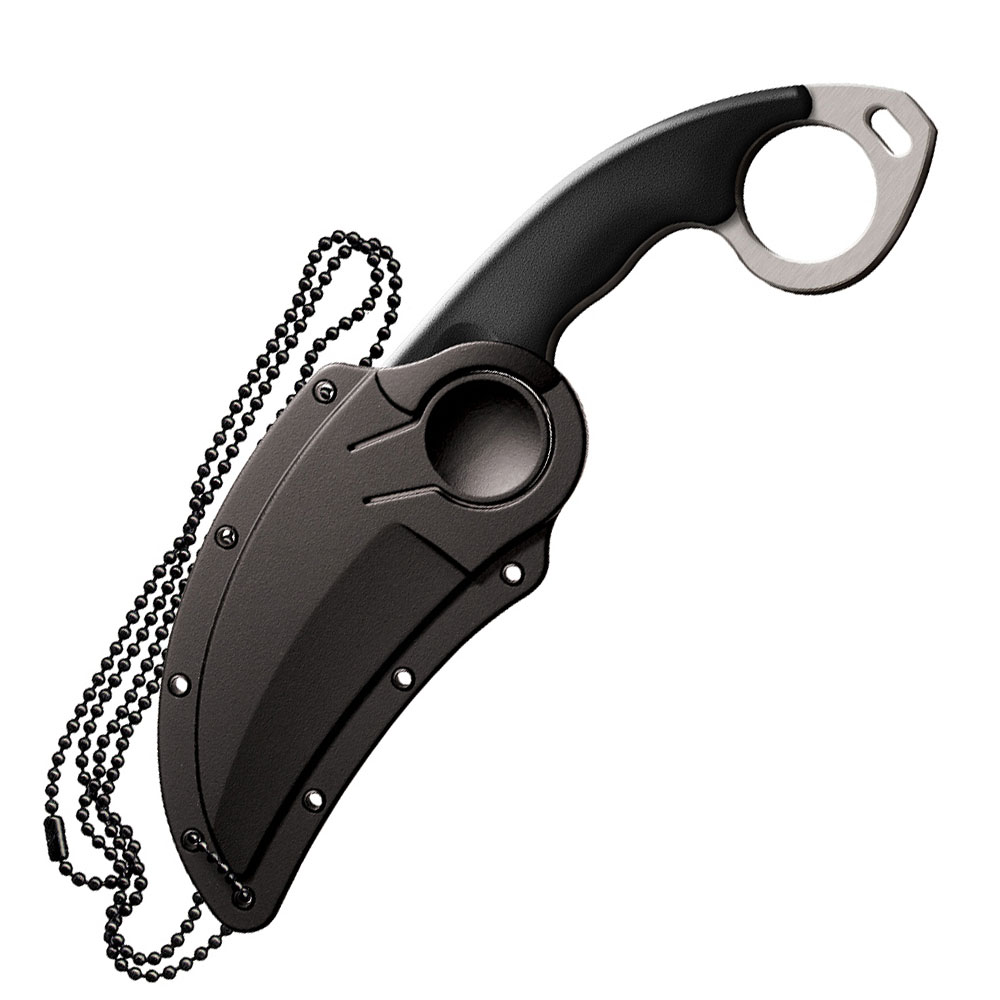 The sheath is a super tough yet minimal affair – it is very flat, no pocket clips or other protrusions to add bulk or weight. It has a few lashing holes though, if you did want to attach it somewhere different to the chain it comes supplied with. In the sheath the knife is secured thanks to a circular button built into the sheath which catches the finger ring nearest to the blade as the knife slides fully in. It doesn't completely lock the blade in place but holds it secure enough that all the shaking I could muster didn't move the knife at all. Deployment of the knife is quick and quiet, just how it was designed. Due to the curvature of the blade, putting it back in the sheath takes a bit of practice – my first few attempts were a bit clumsy – but once I got used to working with the curve of the blade it became much easier.
This is a well-rounded knife for those looking for a slim and light carry – it's made from good quality steel, is super sharp and is also really comfortable to hold. The grip is probably as secure a grip as you can get thanks to the two integral finger holes.
---
If you like the karambit style of knife and want something that is very slim and extremely light, the Cold Steel Double Agent I is a knife you absolutely have to check out.